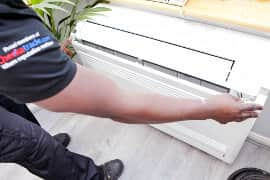 | | |
| --- | --- |
| Customer | Smart Inventory Services offer landlords professional inventory reports in the Bromley area. They work from a home office and wanted air conditioning units to help maintain a comfortable working environment, so we installed a number of units for them. |
| Location | Bromley |
How did we meet the customer's air conditioning requirements?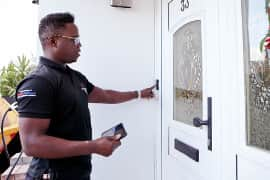 We worked with the customer to choose appropriate air conditioning units for their home office environment, installing a floor standing unit, wall mounts and cassettes for them. The customers were incredibly happy with our work, so much so that we have quoted for an additional ducted unit to be added to their system in the near future.
We are also going to be servicing the equipment over a five-year period to ensure it stays in the best possible working condition for our customers. This will involve regular checks in accordance with the manufacturer's requirements, making sure the air conditioning units are running as efficiently as possible. This will be carried out every six months. The units we installed also come with a 3-year warranty for the customer's peace of mind.
What did we do to accommodate our customer's needs?
Worked with other contractors. We also worked with electricians on the installation, managing the project for the customer and coordinating the work to make it simple for them.
Completed the work within a week. Our installers worked around the customer and completed the work to a strict schedule, getting all units fitted within a one-week time period.
Focused on the needs of the customer. We recommended and installed Mitsubishi Heavy air conditioning units, as these most closely matched the customer's specifications.
What did the customer have to say about our air conditioning installation?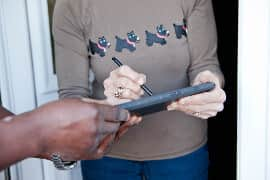 "JP Air Conditioning fitted a unit in our reception and both bedrooms four years ago and we were very pleased with the result, their engineers were polite, neat and tidy. A year later they came back to fit a unit in our garden office and last month fitted one in our conservatory. We have no hesitation recommending them."
Tips for home office air conditioning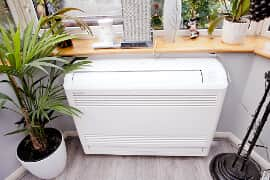 A home office can be an environment that will really benefit from an air conditioning system. It is a space that might be quite small or closed off, meaning a lack of natural ventilation.
Note the issues you have with your environment and speak to an air conditioning professional – they will advise on the best course of action for you. Remember to discuss a servicing package as well, so you can keep your new air conditioning equipment working to its full capacity.
Want to ask us a question about air conditioning in Bromley? We help many customers just like you, meeting their requirements in full every time.
Talk to us today about your air conditioning requirements. Call 020 8333 1191, email or send us a message online to request your free quotation.