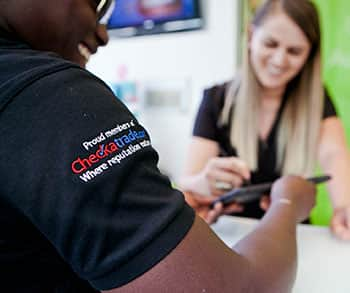 AIR CONDITIONING
SERVICING IN LONDON
We offer maintenance for your air conditioning units, keeping them working at optimum performance and ensuring you can rely on them when you need them the most. Our team of skilled engineers will work to accommodate you, setting up regular servicing or one-off maintenance visits as required. We will be happy to arrange servicing around your business opening hours to minimise disruption to you.
Book your air conditioning service in London – we offer you excellent value for money. Our team will give you a free quote  and provide full details of the air conditioning servicing packages we offer.
A maintenance contract is the best way to maintain your air conditioning units and ensure they are running exactly as they should be. Regular services mean that the units run more effectively, saving you money on running costs. This can also prevent problems occurring, or pick up small problems before they become larger ones, saving you money in the long run as you can avoid air conditioning downtime and costly repairs. Many of the clients who use our air conditioning installation services also choose a maintenance contract with us.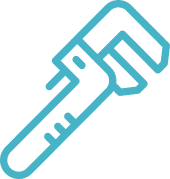 ONE-OFF MAINTENANCE VISITS
We offer a deep clean service for all types of air conditioning units which will help keep them in tip-top condition, remove the unpleasant odours that build up over time and can help reduce the likelihood of future breakdowns.
Clients can request a deep clean at any time as a one-off or as an optional extra with their regular servicing. If our engineers are on site working on your system for any reason, they will always advise you if they think the unit is due a deep clean.
We especially recommend a deep clean in the following situations:
New tenancy
Have you recently moved into a new commercial or domestic property with pre-existing air conditioning? Did the previous tenants pass on any service records for the system? Our engineers can carry out a full deep clean which may also highlight any pre-existing problems that weren't dealt with by the previous operators.
Not sure when the system was last serviced?
It is important to regularly service units for them to work at their best and to help prevent breakdowns.
Units not serviced for over a year
The leading manufacturers advise that units should be serviced at least twice per year.
Demanding environments
Commercial kitchens, gyms, salons or other demanding environments can put extra strain on the units and cause them to work harder if they are not properly maintained. Their filters can become blocked more quickly and unpleasant odours can build up over time. A deep clean and our specialised smell-busters can help get them back into optimum condition!
Air conditioning systems have become essential parts of our daily routine. Over time, the inside of the unit collects dust, pollen and can be an ideal breeding site for bacteria, mildew and mold, especially during the summer season. As a result, chemical aircon servicing is often the most effective solution to the problem. Here are some benefits of aircon chemical servicing.
Why is it important to clean your Air conditioning system internal and external coils
Some of the benefits of chemical coil cleaning are as follows:
Cleaner air
Lower electrical consumption
Increased unit lifespan
Better cooling performance
Decreased water condensation.
It removes dangerous microorganisms
Improved air quality
To minimise energy usage and reduce utility costs, the A/C coils should be cleaned at least once a year. It is estimated that dirty evaporator and condenser coils can increase the energy usage of your air conditioning system by over 30 percent.
Got a question?
Contact JP Air Conditioning to discuss your air conditioning servicing in or around London.
WHAT IS INCLUDED IN YOUR SERVICE?
Checking operational sequencing between the fan coil unit and remote controller.
Testing on/off, temperature control and operational mode changeover.
Inspecting, removing and cleaning all filters thoroughly.
Inspecting and chemically cleaning the fan coil, unit coils and drip trays.
Checking correct rotation of the fan coil unit, fan(s) and fan motor running currents.
Checking that all mains power, interconnecting controls and external/BMS control cable connections are tight and free of dirt.
Cleaning sump tanks of condensate removal pumps, if fitted. Testing efficiency of pumps and integrity of vinyl drain lines.
Testing factory-fitted condensate lift pumps and gravity drain line efficiency, if fitted.
Inspecting unit for signs of operational wear and tear, coil damage and possible refrigerant leaks.
Removing any debris from the condensing unit coil and combing aluminium fins, if required, spraying with chemical cleaner.
Fitting pressure gauges to condensing units to check operational pressures.
Should pressures be incorrect, checking refrigerant gas, and oil changes of compressor(s).
Checking correct rotation of condensing unit fan(s) and fan motor running currents.
Checking voltage and current being drawn by the condensing unit.
Checking that all mains power, interconnecting controls and external/BMS control cable connections are tight and free of dirt.
You can add a deep clean to your service at any time as an optional extra – just let us know when booking or requesting a quote if you want to add this.
WHAT HAPPENS AFTER YOUR SERVICE?
Following your service, we will make any recommendations for additional repairs that might be required. We will then provide a full written report that is signed by your engineer. The on-site F-Gas register will also be updated, as required, with details of the leak test method and results.
SEE EXAMPLES
OF OUR WORK
See our case studies for details of maintenance work and services we have carried out for our clients, helping them gain as much as possible from their air conditioning units.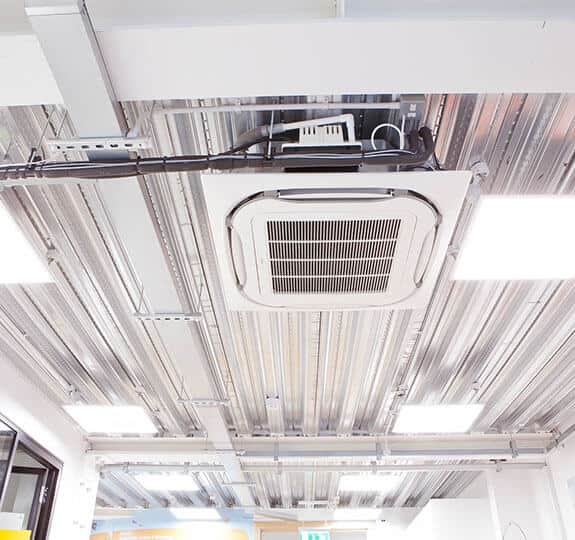 Contact us today to make an enquiry.
Design, supply, installation, an emergency call out or a second opinion? We operate 24/7/365 and welcome your enquiry. We would love to hear from you.