Air source heat pumps in London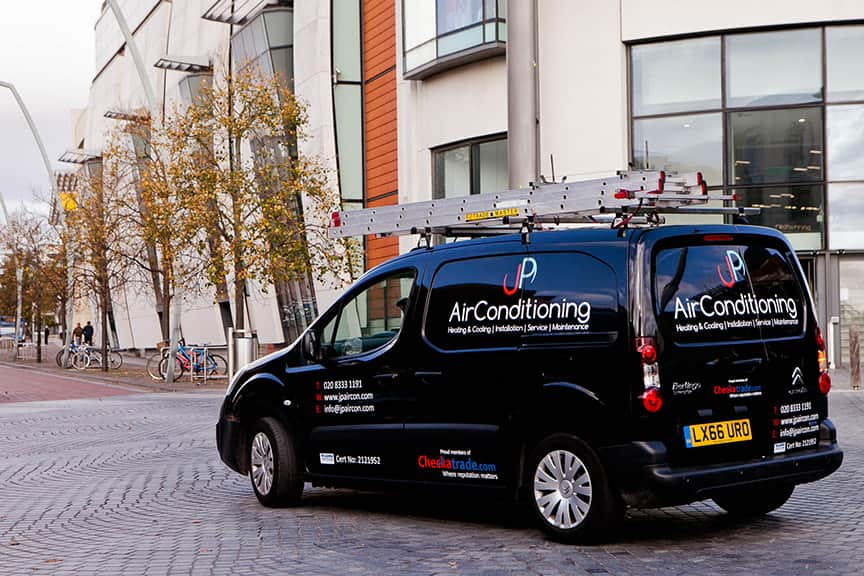 For an energy efficient alternative to traditional heating and air conditioning, consider installing an air source heat pump within your London property
Our team can take care of the installation and maintenance process if you decide an air source heat pump system is the best option for your London property, whether it is residential or commercial. Whether you are interested in an air to air or air to water system, we can manage the installation process from start to finish, even connecting your new system to solar power if you would prefer. We ensure all necessary steps are taken so that your new heat pump is functioning at maximum capacity. Our expertise allows us to install air source heat pumps from multiple manufacturers, and with a minimum 5-year warranty on all our systems, you can rest assured that you are protected should anything go wrong. Our engineers can provide their ongoing support once installation is complete
What types of air source heat pump do we install in London?
Air to air heat pumps
This system works in a similar way to an air conditioning unit, in that an external unit is installed and absorbs heat from the outside air, by compressing it and condensing it, before circulating this heated air around your home.
This process can also be reversed to provide cooling in the warmer months.
These systems have become increasingly popular because there is no gas or oil involved. They are a cost-effective alternative to central heating methods such as combi or gas boilers and can run off just 20% electricity as up to 80% of the energy is drawn from the air itself.
Many of the systems we install in London possess an A+++ energy efficiency rating, so you can expect this to have a positive impact on your energy bills.
Air to water heat pumps
These systems operate in the same way as air-to-air heat pumps, however the gas is condensed into a liquid state to supply hot water to your radiators and showers, as well as underfloor heating.
Our fully qualified plumbers safely connect your new heat pump can to your water supply.
With a renewable energy heat pump, the heat output significantly outweighs the electricity input, so your running costs are significantly reduced as opposed to traditional heating systems. These heat pumps are efficient and so reduce carbon emissions making them sustainable and environmentally friendly. Our engineers can install these systems in conjunction with air-to-air heat pumps to your specifications so that your property benefits from   both warm air and hot water.
Got a question about air source heat pumps in London?
For any questions you may have on air source heat pump installation, contact JP Air Conditioning and we would be happy to provide the answers.
What heat pump manufacturers do we work with in London?
At JP Air Conditioning, we install the very best air source heat pump systems on the market today, which are renowned for their reliability and efficiency in providing heat to your home. You can benefit from a minimum 5-year warranty on all manufacturer systems we install. As Daikin D1 installers, you can benefit from the extended 7-year warranty we offer on all Daikin heat pump systems. These warranties run in conjunction with our maintenance contract. As fully trained air source heat pump installers, we  install systems from these manufacturers:
Daikin
Mitsubishi
Ecodan
Toshiba
Fujitsu
Panasonic
Our air source heat pump installation process
in London
We follow a specific process when installing an air source heat pump within your property in London, similar to that of air conditioning units. We manage the process from start to finish so that the system runs smoothly and efficiently..
We arrange an initial on-site survey to assess your requirements and devise a solution to best suit your needs. We assess key factors such as the current level of insulation in your home the size of the property, and the amount of space available for installation.
We then provide you with a quote detailing the costs of the air source heat pump and installation.
Once this is accepted, the installation process can begin. We will plan the wiring and plumbing with fully qualified engineers and plumbers so that installation will be completed as efficiently as possible.
When installation is complete, the system will be run for 2 days to thoroughly  test all elements are working correctly (engineer jargon). The final commissioning then  checks all key plumbing and electrical heat pump components. Your commissioning report then confirms you are left with  your new fully functioning air source heat pump installation.
Why choose us for air source heat pump installation
in London?
Start to finish installation
When coming to us for heat pump installation, we manage the process from start to finish for you. This means that once you have decided on a suitable system for your London property, we will arrange all the necessary steps to ensure
Tailored to your needs
Once we have arrived on-site to carry out a survey, we will be able to use our knowledge and expertise to recommend the most suitable system for you. Whether its air source or ground source heat pumps, we offer a wide range of systems from various different manufacturers so you will be able to find something suitable for you.
Extended warranties
Not only can our customers benefit from a minimum 5-year warranty on any of our heat pump systems that we offer, but we are also registered Daikin D1 partners. This means that you can take advantage of an extended 7-year warranty if you decide that a Daikin system is most suited to your property.
Experienced
Our highly knowledgeable team of engineers are professionally trained when it comes to all types of air source heat pumps. This means that, once you have decided on a suitable system, our experts will be able to get to work at a suitable time for you and will follow all necessary steps to ensure that the installation process runs as smoothly as possible.
Whether its installation, repairs, or the maintenance of air source heat pumps, we can help customers in London. To begin your enquiry, give us a call on 0208 333 1191 or email info@jpaircon.com. You can also request a quote online and we will get back to you within 24 hours.