Ground source heat pumps in Essex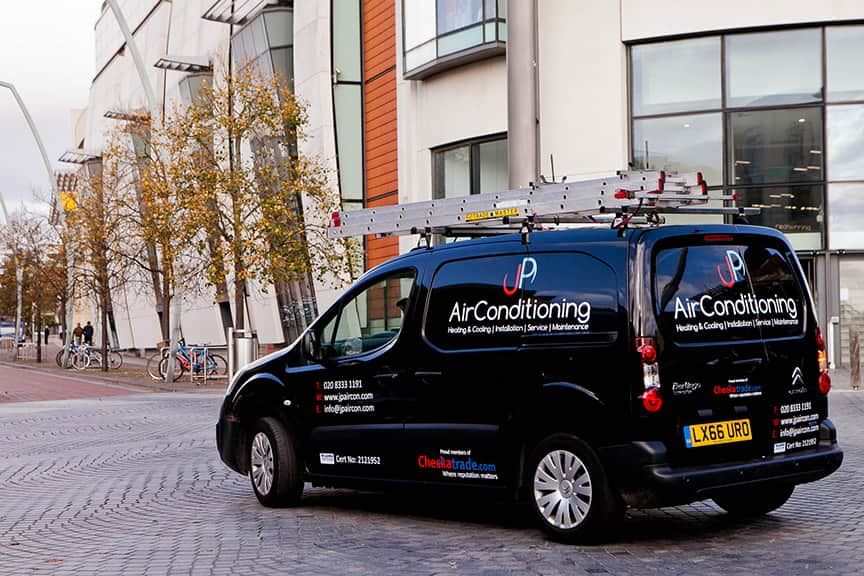 Heating your home or business premises can be expensive, and traditional heating methods can be wasteful and harmful to the environment. Ground source heat pumps are a more efficient and environmentally friendly alternative to traditional heating methods and could make the ideal addition to your Essex property. They use less energy to provide the same amount of heat, making them cheaper in the long run. Plus, their additional cooling capabilities make them perfect for year-round use.
Call 02083331191 or email info@jpaircon.com to talk to our team about ground source heat pumps in Essex
Ground to water heat pumps
in Essex
The cost of heating your home and getting hot water can be expensive, especially during the winter months. Investing in a ground to water heat pump is a great way to reduce your energy bills. These systems work by installing ground arrays below your property, which take advantage of the consistent temperatures below ground to meet your heating requirements. With a ground to water heat pump, you can easily heat your home and get hot water without breaking the bank. These systems are an ideal alternative to a gas or oil-fired boiler.
Energy efficient ground source heat pumps in Essex
Meeting the UK's carbon emission reduction targets is going to require a lot of money and a lot of new technology. Many of these technologies, like ground source heat pumps, are still unfamiliar to most people. Ground source heat pumps are one of the most efficient and environmentally friendly ways to heat your home. By investing in a ground source heat pump now, you can help reduce your carbon emissions and save money on your heating bills in the long run.
Got a question about ground source heat pumps in Essex?
You can get in contact with our experts, and we will be able to provide further information about ground source heat pumps in Essex.
What ground source heat pump manufacturers do we work with in Essex?
Ground source heat pumps are a great way to heat your home, but it's hard to know which one is right for you. Not all heat pumps are created equal. There are a lot of different factors you need to consider when choosing a heat pump – like the size of your home, the climate, and your energy usage. We work with leading ground source heat pump manufacturers so that we can provide our customers with the best possible options for their Essex property. Our systems come with a minimum 5-year warranty, and we're proud to be Daikin D1 partners so that our customers can enjoy an extended 7-year warranty when they choose a Daikin system.
As fully trained ground source heat pump installers, we install systems from these manufacturers:
Daikin
Mitsubishi
Ecodan
Toshiba
Fujitsu
Panasonic
Our ground source heat pump installation process
in Essex
Our experienced team takes care of every step of the installation process, from digging the trenches to connecting the pipes to testing the system. We guarantee that your new ground source heat pump will be up and running properly, so you can start enjoying its benefits right away.
Before installation can begin, we will carry out an on-site survey at your property. This is to decide on whether your property is suitable for this type of system, and so that we can offer you a quote for completion of the installation.
Upon completion of the survey, we will provide you a quote and agree on the most cost-effective installation that suits your requirements.
Once you have decided on the most suitable option, installation can take place. We work alongside trusted contractors so that excavation can be performed safely. Your heat pump can then be connected to your heating and hot water supply by qualified plumbers and renewable heating engineers.
Before completing the job, your system will be fully field tested by our team. This involves running the heat pump for 2 days to make sure it is functioning correctly, before commissioning its key components. This is an important step to leave you with a ground source heat pump operating at full capacity.
Why choose us for ground source heat pump installation
in Essex?
Start to finish installation
Installing a ground source heat pump can seem like a daunting task, but our team of professionals are here to help. We have been installing ground source heat pumps for years and have the experience and expertise necessary to get the job done quickly and efficiently. Plus, we take care of everything from excavation to connecting your new system so that you don't have to worry about a thing.
Tailored to your needs
The cost of heating your home is rising year after year, and it's more important than ever to make sure that you're getting the most out of your heating system. A heat pump from our team will be able to save you money on your energy bills while keeping you warm all winter long. We offer a range of heat pumps to suit Essex homeowners, so you can find the perfect system for your needs.
Extended warranties
Not only is your heating system not working, but now you must deal with the added stress of finding someone to come and fix it. And you're not sure if they're going to be able to get there quickly enough or if they're going to be expensive. With our warranties, you can relax knowing that you are covered for at least 5 years (and up to 7 years if you have a Daikin system installed). We will send out one of our qualified technicians as soon as possible so that you can get back to living comfortably in your home or office.
Experienced
We are a team of qualified engineers with years of experience in installing, maintaining, and repairing ground source heat pumps in Essex. We follow all necessary safety procedures when on your property so that you can be confident that your heat pump will be functioning at full capacity when we're done.
We are JP Air Conditioning, installers of high-quality ground source heat pumps in Essex who are always happy to provide support. If you need information about our products or services, contact us now on 02083331191 or by emailing info@jpaircon.com.